Not every infrastructural project that was launched at some point was completed, especially if a political system change took place in the meantime. In Romania's capital Bucharest, one such legacy of the socialist past can be found, which today has a very different purpose than originally planned. In today's blog post, Prof. Constantin Iordachi provides us with insight into the case study of the Văcărești Natural Park, an example for the unexpected afterlife of socialist infrastructure in Bucharest.
***
We live in a highly inter-connected world. Our multilayered connections to people, nature, and society are routinely mediated by infrastructure: from electricity networks and transportation hubs to internet and communication, to name but a few. Infrastructure comes in a bewildering range of forms and shapes. It can be massive and highly material, just as it can be tiny, invisible or even immaterial. Essentially, however, as any other utilitarian mediums, infrastructure mediates between us and things and thus tends to be 'invisible' to the public eyes: arguably, we see it—it stands out or we become aware of it, that is—only when it either breaks down or it is endowed with exceptional visual qualities and a friendly, usable interface that facilitate interaction with the public.[1]
Socialist infrastructure is part and parcel of modern infrastructure, but it has several characteristics that sets it apart in the global history of infrastructure. First, at its inception, socialist infrastructure adopted and adapted Western developmental prototypes of the 1880, relying on extensive industrial growth based on heavy industry. Second, socialist infrastructural projects prioritized economical needs over societal ones. In socialist societies, the main emphasis was put on exponential industrial grows based on high rates of accumulation and reinvestment in order to catch up with the developed West. Consumption was seen as waste, an orientation that led to a peculiar economics of shortage (see Kornai 1980). These features gave socialist infrastructure an unmistakable visual imprint: if stone, bronze, clay, bricks, or mortar were the emblem of past civilizations, then precast concrete was the characteristic mark of socialist infrastructure, the "utopian socialist material"[2] as found in factories, dams, and blocks of flats. This peculiar visual outlook helped consolidate the identity of socialism as a peculiar strategy of modernity, indeed a world in itself or—in the words of anthropologist Steven Kotkin (1995)—a civilization. My own recollection of the socialist realities of Nicolae Ceaușescu's Romania in the 1980s are illustrative in this respect: I vividly remember the scarcity of goods and electricity shortages specific to late socialism, but also the gigantic urban building yards that made life in Bucharest a nightmarish experience, be it the building of city's first metro lines, of new residential districts, of the New Civic Center with its pharaonic People's House, or of the Bucharest-Danube canal.
The massive and largely obsolete nature of socialist industrial or architectural mastodonts made the integration of socialist infrastructure into post-socialist realities particularly difficult. While contemporary socialist regimes, such as China or Cuba, continue to proudly parade socialist realist architecture in new contexts, post-socialist societies debated at length the fate of the huge socialist factories and emblematic Stalinist buildings. Some were transformed and reintegrated in the city scape (e.g. the Kulturpalast in Dresden, Germany); others were demolished (see the Palast der Republik in Berlin, whose debris fed the construction of Dubaj's Burj Khalifa), or even blown up (as was the Georgi Dimitrov Mausoleum in the center of Sofia, Bulgaria) in an attempt to eradicate the socialist past. Others, yet, were simply abandoned, turning into weird cityscapes specific to the post-socialist underdevelopment.Not surprisingly, my visit to China in 2017 was, in many ways, a peculiar déjà vu time travel, a kind of "back to the future socialist utopia." It became evident to me, even before landing, that capitalist infrastructure arrived in China in full swing, judging from the huge numbers of factories, highways, airports, and high-speed trains mushrooming all over the heavily industrialized landscape. Yet, it did so in seemingly socialist garments: the huge tracks constantly congesting the traffic, carrying rebars and precast concrete reminded me, mutatis mutandis, the face of socialist Romania in the 1980s.
Naturally, public debates over the legacy of communism were highly acute in Romania, as well, a country where the communist regime left a particularly heavy impact on environment and on urban and rural landscape though forced industrialization, forced urbanization, and rural systematization. As everywhere else in the former Soviet camp, people's attitudes to—and relationship with—the socialist infrastructure has been complex and contradictory. Some huge infrastructural projects were further exploited and even expanded (see the Danube-Black Sea Canal); others were abandoned and fell into disrepair (see the unfinished Bucharest-Danube Canal, Picture 1 below), or were taken over by nature and turned into a peculiar combination of a natural-industrial habitat, as unmistakable marks of architectural or developmental failures. The most controversial case was, by far, the socialist People's House (Casa Poporului), Nicolae Ceaușescu's pharaonic urban 'civic project' of North Korean inspiration, reportedly the heaviest building and the second largest administrative building in the world (see below Picture 2). Many argued that the communist mastodont should be demolished, since it was a shameful reminder of Soviet-type totalitarianism turned local; others argued that the building should be refurbished and turned into a postmodern landmark displaying historical legacies but also post-communist creativity. The authorities, on their turn, had the challenging task of completing and managing the building and turned it into Romania's Palace of the Parliament (Palatul Parlamentului). Others, such as the Romanian Orthodox Church, took pride in the achievement and added their own pharaonic cathedral to the would be national-communist Mall (see Picture 7).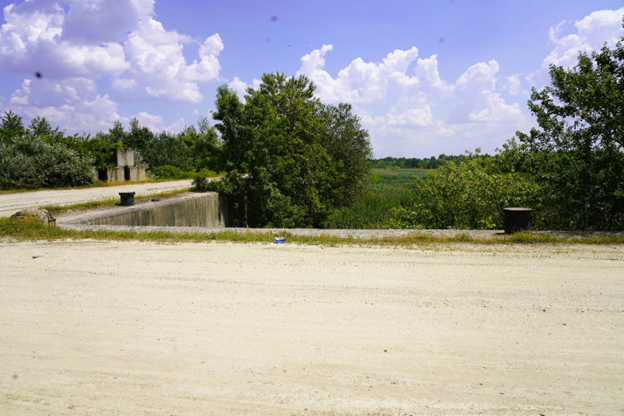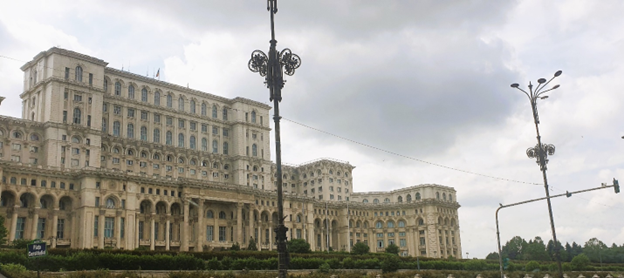 Among the later examples, the most spectacular is by far the Văcărești Natural Park, a vast wetland covering 190 hectares in the south-eastern part of Bucharest, situated in the city's Fourth Sector, between Calea Văcărești, Șoseaua Olteniței, Șoseaua Vitan-Bârzești and Splaiul Dâmboviței, merely five kilometers away from the city center. This so-called "city Delta" is in fact a former artificial lake cast in concrete by the late socialist regime.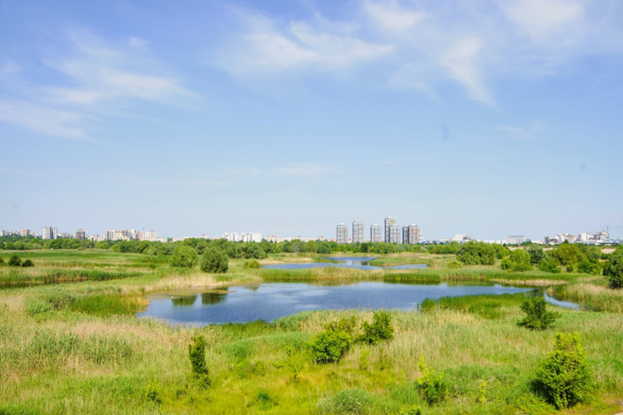 Traditionally, the Văcăreștiarea was a swampy region serving as a garbage dump and generally known as the "Valley of Weeping." Its most important landmark was the nearby legendary Văcăreşti Monastery, built in 1722 by Nicolae Mavrocordat, the Phanariot ruler of Wallachia. In the 1980s, socialist authorities decided to excavate an artificial lake in the area, as part of the ongoing plans to regulate the network of water canals and reservoirs around Bucharest, in order to secure the capital from flooding. To implement these plans, they demolished the Văcăreşti Monastery and circa two hundred houses found of the ground, without proper legal expropriation. The violent fall of the socialist regime in December 1989 left the Văcărești dam unfinished. While the structure was quasi-complete, the reservoir remained nevertheless empty and was fully abandoned; the huge concrete structure left behind a huge scar on the face of the city, as yet another chapter in the long and spectacular series of socialist dam failures that proved so damaging for nature.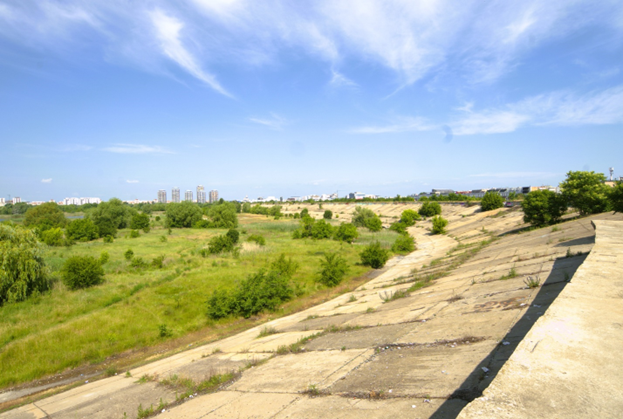 Postsocialist authorities advanced various plans of rehabilitating the area but eventually failed to provide an alternative model of development: despite various private entrepreneurial projects to turn this huge unexploited area into a real-estate bonanza (see the overambitious yet failed project of an Australian businessman called the SC Royal Romanian Corporation SA, who concessioned the land and pledged to invest over one billion USD in a sports-culture complex in the area), the water reservoir was ultimately left to itself for almost two decades. The area was first used as a kind of no-man urban land, becoming shelter to homeless people and occasionally crossed by the local city-dwellers in search of shortcuts for commuting between the adjacent parts of the city.[3] Fed by underground springs, the artificial reservoir turned into marshy lands that facilitated the growth of vegetation and wildlife and was gradually but steadily taken over by nature. As seen in the Chernobyl area, in the Demilitarized Zone between North and South Korea, or in many parts of the world during the Covid-19 pandemics, when left to itself nature is able to recover fast, even in the most unhospitable circumstances: what at origins was a desolating city scape, a painful reminder of the multiple failure of modernization by the socialist state and post-socialist regimes, has now become a huge open-air wild reservation: without human intervention, marshes, reed, trees, birds, insects and small mammals and reptiles came together to populate this spontaneous "city Delta" in the heart of Bucharest.[4] Surely, the spectrum of species fluctuates from season to season and year to year, hence the variation in cataloging numbers: according to partial environmental evaluations, the "wetland" exhibits a stunning biodiversity, with no less than 331 species of plants, 150 species of birds, among which are herons, egrets, small cormorants, gulls, swans, coots, wild ducks, and black flies, and a couple of rare migratory ones; 111 species of insects; seven species of fish; thirteen species of mammals, including foxes, rabbits, and muskrats; six species of aquatic animals, such as water snakes and tritons and, reportedly, even several specimens of otter, which are generally taken to be an indicator of a healthy, stable ecosystem.[5] Gradually but surely, the green wetland has been adopted by city dwellers as a recreational area and dubbed Bucharest's VăcăreștiDelta; although not a regular park in the proper sense of the word, the chaotic explosion of vegetation provided an exotic getaway from the buzz of the polluted capital full of romantic hideouts and populated by exotic flora and fauna.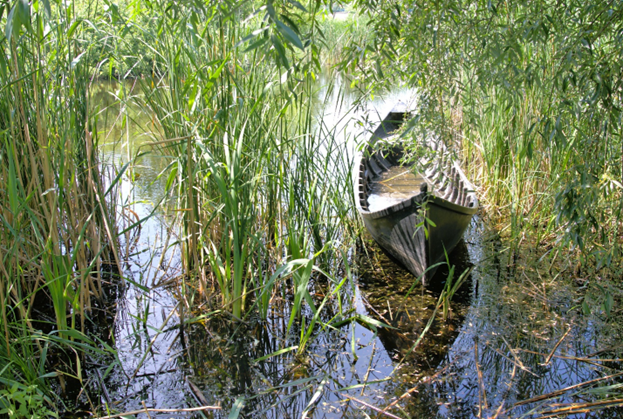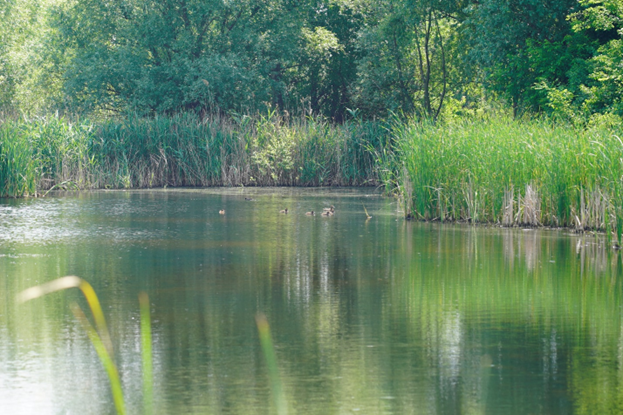 Pictures 5-6: Boats and birds on the wetland's lakes, fenced by abundant reed. Pictures by Constantin Iordachi.
The landscape is diverse and uneven: One can stroll endlessly through the open, wild green meadows that coexist with vast lakes surrounded by wild reefs and populated by bird colonies. and forested pockets of land popping up among lakes surrounded by reeds.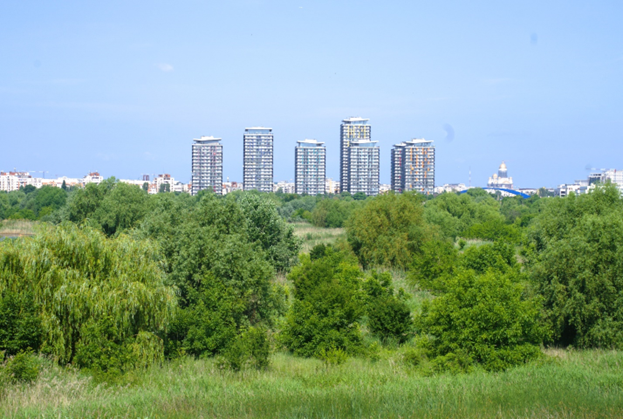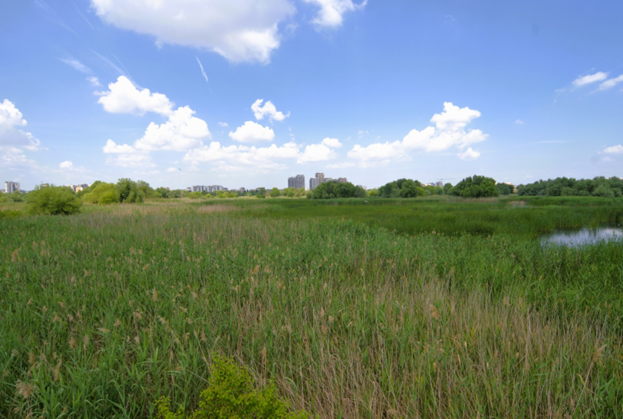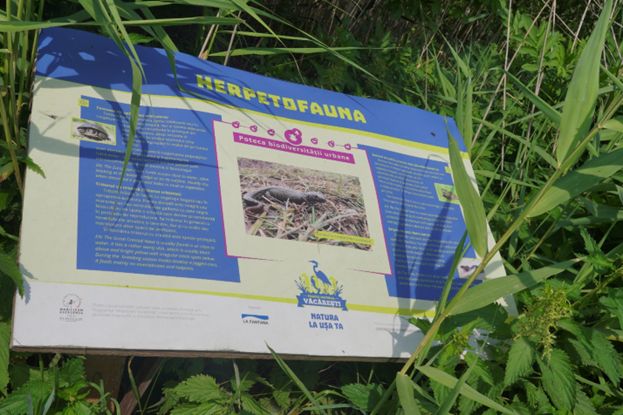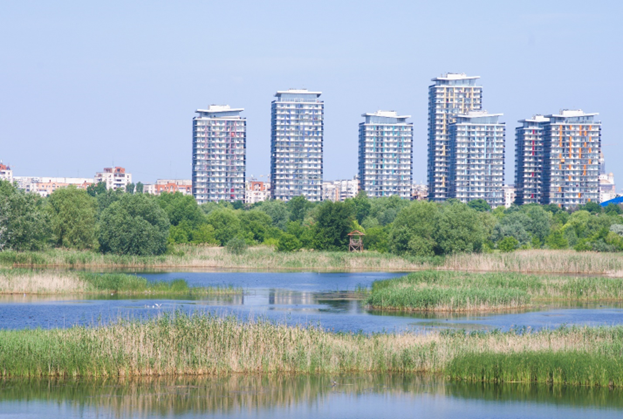 Following reports in the media, including stunning pictures published by the photographer and civic activist Helmut Ignat in National Geographic Romania (2012, see image 11 below), the wetland soon attracted the attention of environmental activists who saw the former water reservoir for what it really was: an open-air natural reservation, a sanctuary for birds, insects, and small mammals.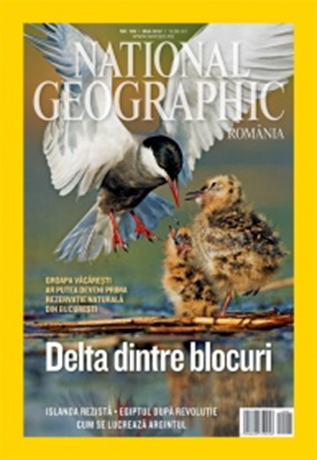 On June 5, 2012, an Initiative Group was created for the establishment of the Văcăreşti Natural Park, consisting of the "Save the Danube and the Delta Association," Kogayon, Ecopolis, and National Geographic Romania.[6] On June 5, 2012, on the world environment day, Romania's Environment Minister and NGO activists visited the Văcăreşti Lake together with the Ambassador of Argentina to Romania, Claudio Perez Paladino, to learn from the example of a similar protected low land in Buenos Aires, Costanera Sur Ecological Reserve (Reserva Ecológica Costanera Sur) on the Rio de la Plata riverbank, presented as a suitable legal and management model.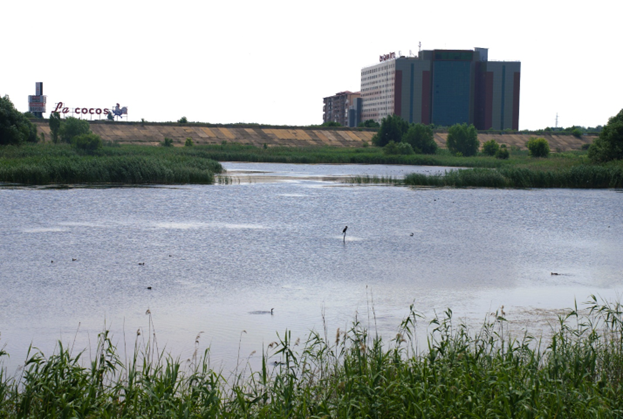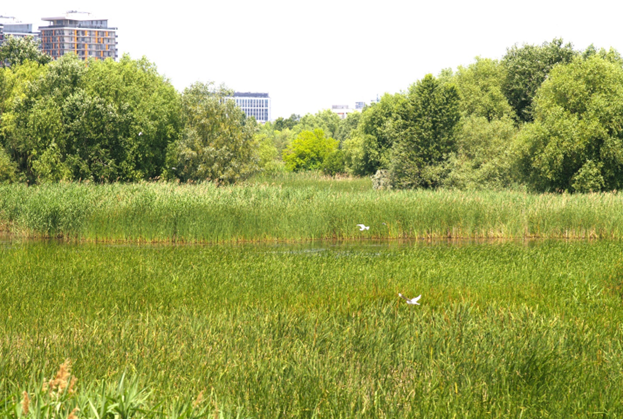 At the beginning of 2015, the Initiative Group founded the "Văcăreşti Natural Park Association" (Asociatia "Parcul Natural Văcărești") supported by a wide coalition of public institutions, public activists, and private companies. Thanks to their concerted efforts, in 2016 the natural area "Văcăreşti Accumulation" was declared a natural park, under the name "Văcăreşti Natural Park," thus becoming Romania's first urban natural reservation and the first protected natural area in Bucharest.[7] The association administered the park until 2016, when it was placed under the newly-created National Agency for Protected Natural Areas (Agenția Națională pentru Arii Naturale Protejate, ANANP) a new public institution under the Ministry of Environment, Water and Forests.
The new protective legislation led to the park's further development, the area being endowed with an information point, observation towers, informative plackets and thematic tours in order to make the visitors aware of the rich flora and fauna of the area, together with plans for a running race and bike path around the park. During my regular visits to the area, I was always surprised to see how fast the ad-hoc park was adopted by the Bucharest dwellers for strolling, jogging, picnics, sunbaths, relaxation and birdwatching.
At first sight, the Văcăreşti Natural Park is a peculiar mixture of socialist and postsocialist urban failure and chaotic natural 'invasion' of industrial landscape. But it can also serve as an illustration of the power, resilience, and versatility of nature which, when left to itself—just like in Chernobyl or in other environmentally devastated areas—takes over and restores life and diversity in all its splendor. It was highly recomforting to see wildlife reclaiming lost territories during the Covid-19 pandemics, coming closer to the shore and trying to recover their natural habitat and restore their lost balance. Yet, such small-scale, accidental natural 'miracles,' made possible by repeated 'failures' of development but also by new protective legislation, remain highly fragile to pollution, poaching, vandalism and arson (see extensive fires in July 2015, August 2017, and February 2020). To persist and strives, they need the continued mobilization and vigilance of the authorities, nature activities and the general public, educated to understand and value nature in all its forms of manifestation.
***
We want to thank Constantin Iordachi for this fascinating overview of his work, and we are looking forward to hear more about it in the future!
Last edit: 8 March 2023
---
[1] Brian Larkin, "The Politics and Poetics of Infrastructure," Annual Review of Anthropology, 42 (2013): 327-343.
[2] Adrian Forty, "'Concrete? It's communist': the rise and fall of the utopian socialist material," The Guardian (Wed 27 Feb 2019), https://www.theguardian.com/cities/2019/feb/27/concrete-its-communist-the-rise-and-fall-of-the-utopian-socialist-material, accessed 10 Febr. 2023.
[3] See Radu Ciorniciuc's documentary Acasă, My Home/My Home (2020) narrating the story of nine families with children forced to leave behind their wildlife in the wetland and to relocate to the city: https://www.imdb.com/title/tt11364376/.
[4] The reverse is also true: reportedly, red deer on the border between the Czech Republic and old West Germany still avoid the Iron Curtain area, even if none of the current red deer populations have actually encountered the former electric fence as a physical barrier. See "Czech deer still avoid Iron Curtain," BBC.
[5] Adrian Mitu, "Parcul natural Văcăreşti – cel mai sălbatic loc in Bucureşti," 06. August 2018, https://umblu-teleleu.ro/parcul-natural-vacaresti/.
[6] For additional information, see https://parcnaturalvacaresti.ro/en/our-association/
[7] See the Governmental Decision nr. 349/2016, published in the Official Gazette no. 371 of May 13, 2016, available at http://mmediu.ro/new/wp-content/uploads/2014/06/2014-06-05_HG_Lacul_Vacaresti.pdf.